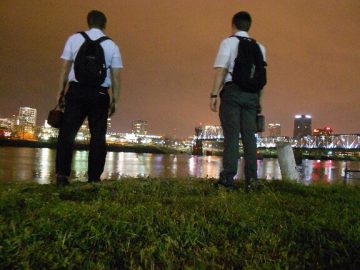 My husband, Richard, and I walked into the Little Rock, Arkansas, Ward of, "The Church of Jesus Christ of Latter-Day Saints," and sat in the very back.  We wanted to be baptized.  My sister-in-law had joined the church and she had recommended, "The Church of Jesus Christ of Latter-Day Saints," to me because I had written a book about a near-death experience during which I had seen forever families.  At that time, I was doing a book tour in the bible belt and other churches had told me I was wrong to believe in a family oriented after-life.  I was excited to read about this church, their belief in forever families, and, "The Book of Mormon."
When Richard and I sat down for the 10:00 service, we thought no one would notice us.  (haha, Richard was in a red jogging suit, and I was wearing shorts.)  The lady next to me held out her hand and said, "Hello.  Are you new to our faith?"  I shook her hand and said, "Yes, and we would like to be baptized."  After she recovered from my statement, she told me to stay right there and she would be back with missionaries who could help me.  Richard and I grinned at each other because we had done some research and knew they were the guys we wanted to meet.
I will never forget taking Elder Whelan's hand and looking into his eyes.  I saw love and kindness, and I felt as though I knew him from somewhere.  Taking Elder McMurtrey's hand, I felt the same thing.  Behind these missionaries, I also met their Missionary President, and his wife.  These wonderful friends took us by the hand and we went to a 'Gospel Principles' lesson.  We sat between them and I remember feeling so loved.  After this lesson, we were invited to attend another hour of meetings.  I remember telling Richard not to let the missionaries out of his sight because we wanted to be baptized.  I had no idea what these missionaries would come to mean to me.
We set up our first 'meeting,' and I fell in love with these strong and secure young men immediately. When these Elders came into our home, they brought a light and a feeling that I had never experienced before. They radiated a truth and a 'feeling' that I wanted.  The missionaries and I argued about who was the answer to whose prayers.  I said I had prayed for them and they said they had prayed for us.  It didn't matter that we didn't agree because our lives were changed forever.  These young men became our friends, our mentors, and the teachers of our lessons on the LDS faith.  We had no idea what we wanted from these lessons other than we wanted what these people had. We didn't know what 'it' was but we knew it was good and that we wanted it too.
These two missionaries baptized us and guided us into the next phase of our LDS lives.  To Elder Aaron Whelan and Elder Kadan McMurtrey, I am eternally grateful.  I share my testimony of these wonderful young men whenever I can.  I am still friends with Aaron and Kadan and we have shared other LDS experiences with each other.  Kadan came to our Endowments and our Sealings, and Richard and I went to Aaron's sealing in Arizona.
To say I love the missionaries is an understatement.  I also adore their commitment to our beloved Gospel, Heavenly Father, and Jesus Christ.